The Sandwich Generation's Guide to Managing Stress and Finances
Caring for aging parents and young children can be extremely rewarding, but the act itself can be challenging — especially when caring for both at once.
As life expectancy increases and millennials struggle to achieve financial independence from their parents, an increasing number of middle-aged individuals find themselves in the difficult situation of having to simultaneously care for their aging parents and children. This group of people, nicknamed the "Sandwich Generation," faces the financial and emotional stress of caretaking on both ends of the spectrum.
Read on to find out more about this unique situation and how members of the Sandwich Generation can manage their stress and finances.
What is the Sandwich Generation?
The "Sandwich Generation" describes the group of mostly millennial and Gen X caretakers simultaneously providing care for both their aging parents and their children.
According to the National Alliance for Caregiving, an estimated 11 million people in the United States are sandwich caregivers, with approximately 47% of adults ages 40–50 taking care of both an adult parent and a child who is either still growing or grown but living at home. A typical carer is a woman born between 1965 and 1980.
The Sandwich Generation has increased as seniors retire and can't shoulder the burden of medical or life expenses, while young adults delay leaving the nest. Currently, 30% of 18–24 year olds still live at home, either moving back after college or foregoing higher education altogether.
Caregiving tasks for the Sandwich Generation range from financial assistance to help with daily tasks like eating, bathing, and paying bills. Most parents still caring for children are supporting them financially and emotionally. On the other end, adults caring for their parents are providing mostly physical assistance, with "old age and frailty" being the most-cited need.
Sandwich Generation Demographics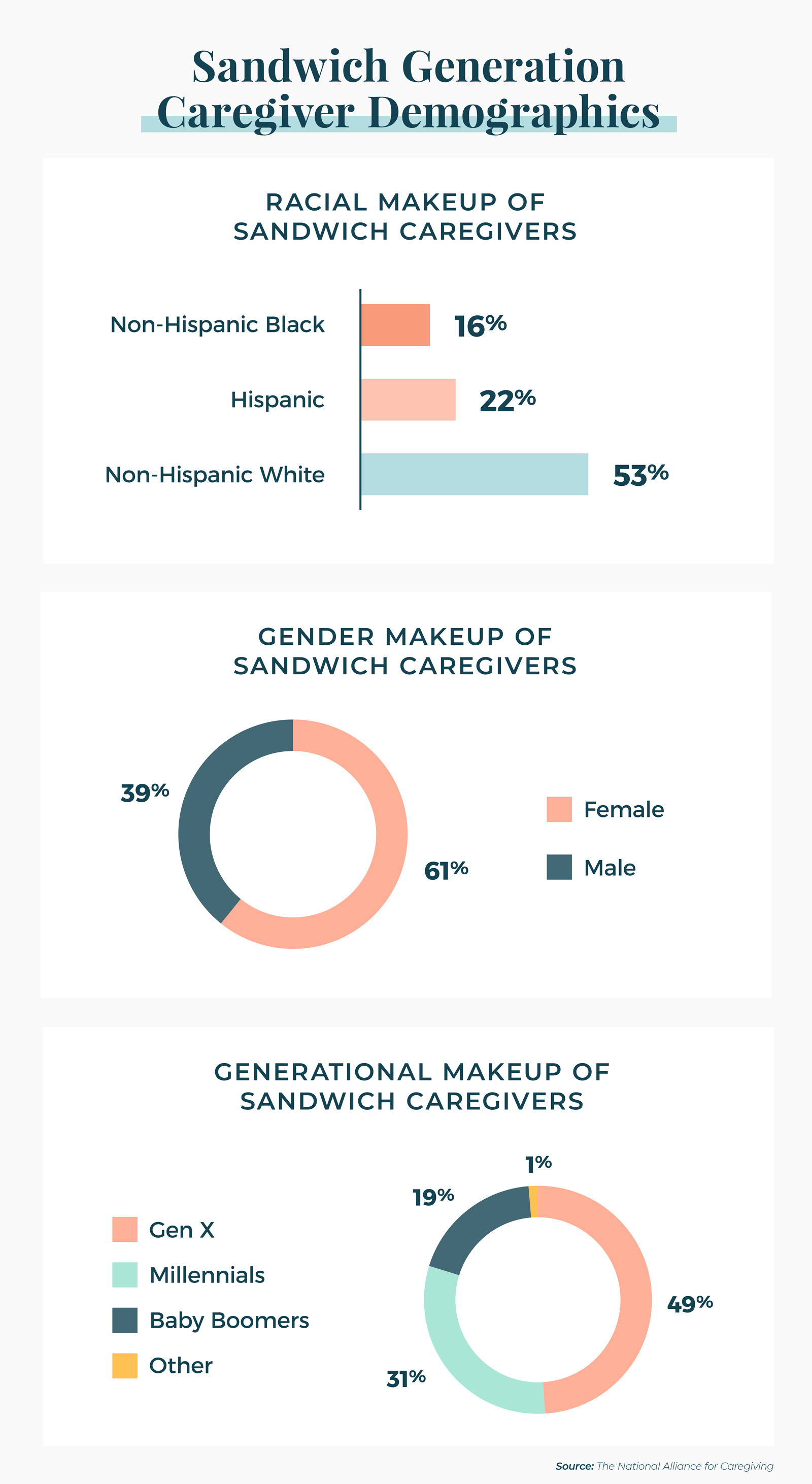 As children rely on their parents for longer and the life expectancy of seniors increases, the Sandwich Generation spans a diverse group of ages, races, and incomes.
Non-Hispanic White people made up 53% of caregivers, followed by Hispanic people at 22% and Non-Hispanic Black people at 16%.
61% of sandwich caregivers are female and 39% are male.
49% of caregivers are Gen X, 31% are millennials and 19% are Baby Boomers.
The mean age of sandwich caregiver is 40.7 years old.
49% of sandwich caregivers earn a net household income less than $50,000.
Breakdown of the Sandwich Generation

As caregiving within the Sandwich Generation itself shifts, other forms of sandwich caregiving are becoming commonplace.
Traditional Sandwich Generation: Adults in their 40s or 50s that are responsible for the financial and/or physical care of both their elderly parents and children.
Club Sandwich Generation: Adults in their 50s or 60s who are responsible for the care of their aging parents, adult children and sometimes grandchildren. This term is also applied to adults in their 30s and 40s who are responsible for the care of their aging parents, grandparents and young children.
Open-Faced Sandwich Generation: Anyone who cares for an elder who isn't paid or a professional in the field.
Financial and Stress Factors Faced by the Sandwich Generation
Life can be stressful enough on its own, and caregiving tasks sometimes cut into the little time that is reserved for self-care. Caregivers in the Sandwich Generation report not only increased levels of emotional stress, but also financial stress as they have to balance their own life needs with caregiving.
Financial Impact of the Sandwich Generation
In a world of rent increases, a collective trillion dollars in owed student loan debt and an average income of $40K for millennials, more of this group is either still living with their parents or depending on them financially. In fact, 58% of adults ages 18-34 said they wouldn't be able to afford their current lifestyle without support from their parents.
The biggest boon parents provide to grown children is phone service, followed by health insurance, cable or streaming services and car insurance. The average parent contributes $254 monthly to their child's financial wellbeing. And this comes after the upwards of $200,000 that parents spend to raise their children from birth to 17, a number that increased 40% in the 2010s alone.
On the other end of the spectrum, 10,000 baby boomers are reaching retirement age every single day. And with that sometimes comes healthcare, housing, and other life needs that they can no longer afford. A 65 year-old woman in good health will spend an average of $13,000 per year on medical expenses culminating in over $400,000 spent on healthcare after retirement.
For the costs of food, transportation, medical supplies, and other household expenses, the yearly bill for parent care comes to about $7,000.
When everything is added up, the Sandwich Generation faces financial stressors from all angles. It can be hard to balance the felt obligation of caring for children and parents while managing your finances, but there are several ways to get started down a path toward financial responsibility in this difficult situation.
Stress Impact of the Sandwich Generation
Juggling a job and the care needs of your parents and children doesn't lend itself well to self-care or relaxation. On top of their other responsibilities, Sandwich Gen caregivers are also putting in anywhere from 16 to 26 hours of care per week for their older parents alone.
Many Sandwich Generation caregivers experience chronic stress, which can lead to high blood pressure, depression, anxiety, digestion issues, and insomnia.
Women experience these symptoms more often than men, with mothers ages 35 to 54 reporting the most stress of any other age group or gender. Nearly 40% of this group reports feeling extreme stress levels.
Financial Tips for the Sandwich Generation
Managing finances can always be complicated, especially when you add in caregiving costs. Luckily, there are a few ways to manage finances that will help you balance your books during this tricky time.
Develop a Retirement Plan With Your Parents
Money can be a difficult subject to talk about, especially with your parents. But a sustainable retirement budget and plan can help them save for retirement and avoid overspending. Given that an estimated 40% of retirees overspend, it's important that seniors understand how to shoulder their own medical and living expenses.
Look at Tax Benefits
There are several tax breaks or credits that sandwich caregivers can claim to help shoulder the financial burden. Some of them include the following:
The Child and Dependent Care Credit: People who were financially responsible for the care of a child or dependent while looking for work may be eligible to apply for this credit.
Medical Costs: Those who are responsible for the medical expenses of a dependent may be able to deduct some of that cost. This form can help you determine whether or not you qualify.
Pay Into Your Retirement and Don't Touch It
If your company offers a 401K matching program, begin paying in as soon as possible. Once you have money saved in your own "nest egg," don't touch it to assist your parents or children. It's for your own future! Your retirement savings will act as a safety net in your older age so you don't find yourself treading water down the line.
Have Uncomfortable Conversations
If you're in the 44% of people who find personal finance the most difficult subject to talk about, you probably find it easiest to avoid difficult conversations about the financial burden of caretaking. But transparency is key in this situation – talk to your kids and parents about their finances, help them set up a plan, and be realistic with them about what you can and can't afford.
Stress Management Tips for the Sandwich Generation
Stress can have serious negative impacts on our ability to function, impacting everything from sleep and concentration to overall happiness.. It's important to take time for ourselves to relax in order to live a better life.
Discuss Work Options With Your Employer
Increased stress levels for sandwich caregivers come from all angles, especially considering 67% of caregivers also report holding a job while providing care for their loved ones. Half of these caregivers report that caring for their loved ones impacted their work attendance, from coming in late and leaving early, to missing altogether
Being upfront with your boss about your caregiving situation could lead to a productive conversation about your goals, or perhaps even increased flexibility and remote work time so you can ease the stress of balancing working while caregiving.
Determine Your Non-Negotiables
Caregiving can sometimes make you feel like your loved ones' needs are more important than your own, but that isn't the case. Determine a few non-negotiables and hold yourself to them to establish a feeling of control and self-care in your daily life.
Your non-negotiables could be anything from an hour of exercise per day to a weekly night to catch up with friends. Taking the necessary time for yourself is incredibly important when in a stressful situation such as this one.
Don't Bottle It Up
Loneliness has been linked to chronic illness, and it's also been proven that discussing your thoughts, feelings and emotions with others reduces stress. Instead of pulling away from friends and family as you work to meet your caregiving needs, lean on them for support.
Having in-depth talks or even just quick check-ins via phone or text can help you verbalize your struggles, and hopefully create a sense of community so you don't feel isolated. Another option is talking to a therapist or finding a support group for others in the same caregiving position.
Seek Outside Assistance
The Family Caregiver Alliance can provide resources and advice as you straddle caregiving roles. The FCA also sends out a newsletter for those who want at-home support on their own time, but can also connect you to support groups and care classes in your area.
For additional in-house help, there are many caregiving agencies that provide house calls and, should you need it, plenty of nursing home options nationwide.
---
The so-called Sandwich Generation is in a unique position of caregiving for their parents and children. It's easy to get burnt out caring for others and navigating the financial and emotional stress that comes with that – but it doesn't have to be so debilitating. By exploring your retirement plans, work options, and community, you can set yourself up for success as you face this challenge.
If you need more help navigating life's challenges, Bestow can provide a life insurance quote in minutes.