At Bestow, we believe expanding access to life insurance means meeting customers where they are. Ahead of Hispanic Heritage Month, we commissioned a survey of self-identified Latinos, and wanted to share some insights into their financial motivations and barriers. 
Behind the numbers: Hispanic Americans prefer buying online, yet are underserved
One of our motivations from the early days of Bestow was to expand access to everyone, and we've found, over the years, the barriers to purchasing life insurance often differ for distinct populations. As we approached Hispanic Heritage Month, we wanted to learn more about how we can better meet the needs of this growing yet often underserved group. Let's dive in. 
Coverage gap and market opportunity
Latinos represent almost 20% of the U.S. population, but their life insurance coverage gap outpaces all other groups, according to LIMRA. Despite shouldering the responsibilities of financial dependents, 51% of Latinos we surveyed said they did not have any life insurance. Meanwhile, respondents' median liquid cash savings was around just $5,000, which isn't enough to cover the cost of the average funeral in the U.S., not to mention other expenses.
When a family member dies, survivors are often hit with numerous unexpected costs. Without life insurance or significant savings, an already stressful time can be made worse by added financial strain. And while 68% of surveyed individuals said they plan on getting life insurance at some point, they may continue to procrastinate. 
To reach this audience quickly and underscore the importance of coverage, carriers must lean into brand awareness and consumer education.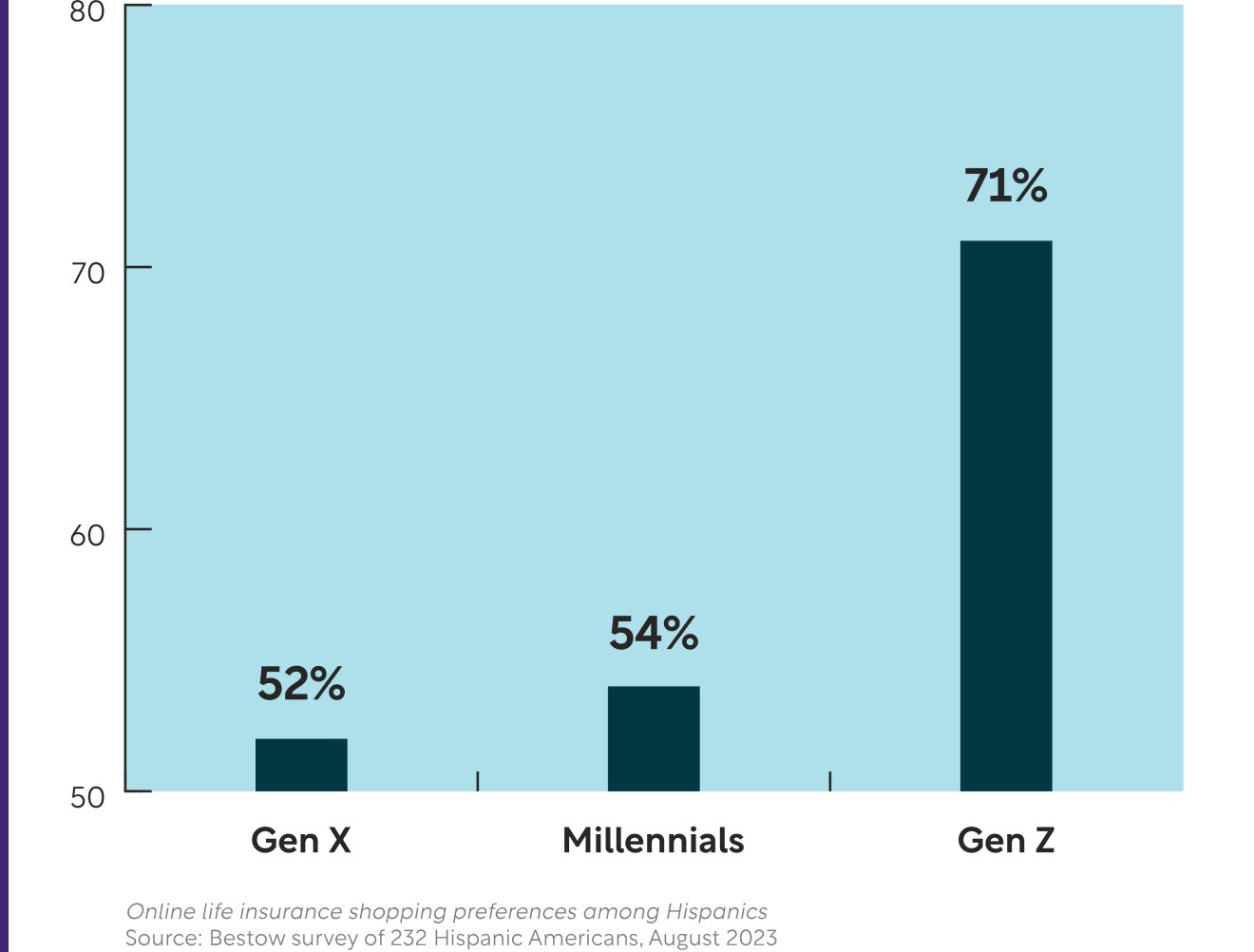 The "buy online" movement is accelerating quickly.
Regarding shopping preferences, the trend among Latinos mirrors the broader movement toward digital methods. For context, LIMRA reports that in the last decade, there has been a 55% decrease in interest in offline life insurance shopping. Of those Hispanic Americans surveyed, over half preferred buying online — with a whopping 71% of Gen Z and 54% of Millennial respondents saying they'd prefer a digital life insurance shopping experience. 
Gen Z will outpace broader population growth in the next couple of years as they age into the milestones that tend to be precursors for buying life insurance. The oldest wave of Gen Z turned 26 this year, highlighting a massive opportunity for insurers to get in front of this market early and often with timely and relevant content and to be ready with the kind of online experience modern customers expect.
When it comes to life insurance, the demographics, needs, and expectations of the marketplace are constantly shifting. If you don't remain curious about those trends (along with what's driving them and how to leverage them), you risk falling behind. The Hispanic American insurance shopper is there. The question is, what is your organization doing to serve them?
If you'd like to read our survey results in greater detail, you can do so here.